4F Robinsons Galleria
The Place
There were no other customers when we entered. The place was quite comfy and clean probably due to the fact that the place was still quite new. As we sat down, our supposed family mojo started working and more customers came in. Fifty to seventy people could probably be accomodated quite comfortably. Lighting was ok - not too dark and not too bright.
The Service
The service could still use work but that was again probably due to the place being rather new and perhaps they were not expecting anymore customers for the night. The food was served in a reasonable amount of time and all the orders were complete.
The Food
The food was excellent for the price.
I had the baked onion soup and the 8oz blade steak cooked rare. The baked onion soup was nicely done. It had a lot of onion bits in it but not too much that it was more slop than soup. There was a generous amount of cheese but just right so as to dominate the taste of the entire soup. Unfortunately, my one and a half year old son tasted and liked the soup and commandeered it as his own.
The steak was minimally seasoned... the way i like it. it probably came back a bit bloodier than i like but it was fine. it was nice and tender though i noticed the last few bites were getting a bit tough. the meat was pretty well marbled for local steaks. two free side dishes came free with the steak. I chose mashed potato and garlic rice. The other choices were potato croquet, steamed rice and steamed veggies.
Other things to try are the white tea with grapes and the rootbeer float (though the serving is kinda small)
Budget
The steak cost Php 495, the rootbeer float was 75 and the soup was 75 as well. If you want a full meal complete with salad and appetizers, you'll prolly shell out around Php 800 for the meal. well worth it in my opinion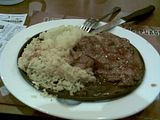 Not the best pic taken of a steak... haha!
P.S.
Boozard is
laikaken
's big brother.